ABOUT ME
I started playing guitar when I was a teenager. For the last 14 years I have been regularly playing on stage an average of 45 gigs per year, the last 7 years with my party-coverband COCO-BAND with a very versatile repetory from rock, pop, rock'n'roll to blues, soul, country and disco-music, which, of course, also demands a "multi-various" guitarsound.
I experimented a lot with my sound until I came to the conclusion that the amp I had, although an original Marshall, could no longer meet my expectations which had eventually evolved from my own development as a musician. I wanted to get the original rock sound from the 60s and 70s and began to do some research on the internet. This led me quickly to the whole area of vintage amps, which however are very expensive to buy.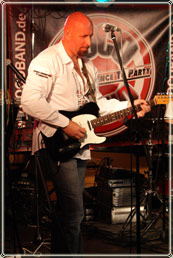 As I have always been technically interested and used to fixing or altering my own musical equipment I decided to build a vintage amp myself. It was a JTM 45 and I was astonished, how good it sounded, compared to my old amp.
Since that time I have built several other amps, partly modified them after my own conception and have advanced quite a bit towards my goal to find the perfect sound for myself.
"Amp-building" has long turned into a passion for me and I am convinced of the vintage sound in general and especially of the sound of my DUKE AMPS, which I have been playing myself on stage for the last two years without ever having any problems.
I would like to invite you to make your own picture of DUKE AMPS and I am looking forward to your feedback.